Yes, all-weather floor mats are worth it. They pay off for every penny you've spent. They are flexible, easy to clean and fit the contouring.
Below are some reasons why all-weather floor mats are worth buying.
Are All-Weather Floor Mats Worth It
Not Leaving an Inch Uncovered
All-weather floor mats are made from rubber and plastic. The manufacturers use 3D Technology that scans the contouring of a car to design a floor mat that does not leave an inch uncovered. It 100% protects the foot well.
No water, debris, spill, or dirt finds a way to pass through the mats, all thanks to edge-to-edge covering. This further helps with preventing mats from shifting around. If not an inch is uncovered, no space for the mats to move. It perfectly sits down in the footwell.
Features Channels & Treads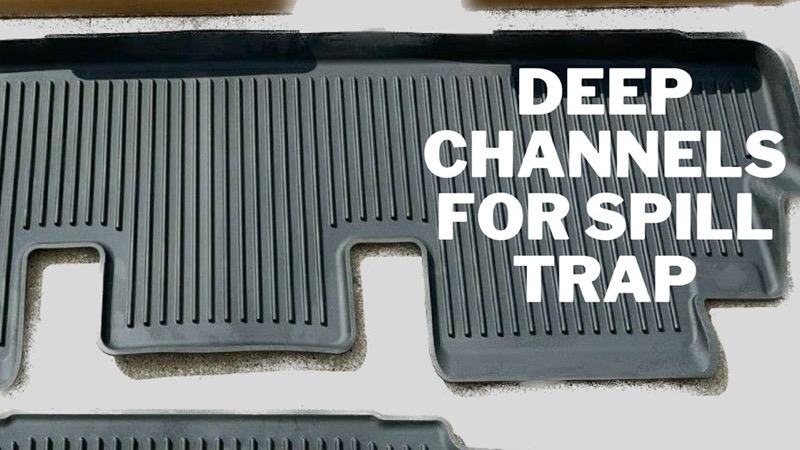 Another reason why all-weather floor mats are worth it is the channels and treads it has. They help in two ways; they channel the water or spill towards the sides, leaving cleaner areas under the feet. It keeps your shoes clean so when you're going to a shopping mall, office, or home after walking on the muddy or dirty ground, the shoes will be free of them. Because they get stuck in the channels. 
Plus, the dirt stays inside the channels and will not escape the mats when you want to remove them for cleaning. This is another benefit of the treads in all-weather floor mats. On the other hand, the debris goes inside the carpet mat which is hard to clean.
Quick & Easy Clean Up
Unlike carpet mats where a vacuum is the only option for deep cleaning, all-weather floor mats are easy to clean with water or a hose. If the dirt is not deep, just remove the mats and give them a shake, and the debris goes away.
The spills, sand, or liquid stay on the surface of an all-weather floor mat while it is absorbing water to some extent by carpet mats, which can be cleaned with a deep vacuum.
Secure Retention System
All-weather floor mats have a strong retention system that disallows them to shift. The system consists of retainer clips, nibs under the lower layer, and raised boundaries. Not all floor mats have nibs that grasp the carpet, but some of them do, depending on the brand if they embed them. 
Since mats firmly sitting in their place is essential for all types of floor liners, the carpet mats also feature retention posts. While they lack nibs and elevated edges, which further add to the security.
Designed for Almost All Vehicle Brands & Models
Name any car brand and its model, and you will find all-weather floor mats for it. That's why they are used so widely and people prefer them. The manufacturers like Weathertech, Husky liners, OEDRO, Smartliner, Tuxmat, 3D Mats, etc scan the contouring of all vehicle brands and models to design perfect-fit floor liners.
They also make universal mats for people with low budgets. These products need trimming to make them according to your car's footwell size.
Waterproof
Non-waterproof mats make way for the liquid to pass through the mats and down to the pan, which gets rust if it remains wet for a long time. Therefore, a waterproof mat should be selected first. The carpet mats since they have hairs absorb water, which then finds a way to pass through the carpet, and finally reach the floor pan.
all-weather floor mats as you know are made from rubber or plastic, they don't have any pores so the water runs through. They're waterproof and prevent spilled liquid from escaping
One-time Solution
All-weather floor mats are for winter, summer, snow, rain, sand, mud, ice, salt, debris, dirt, and spill. It is best for children and for pets. No need for separate mats for a specific condition. It works fine in all seasons. That's why this is a one-time solution.
All-weather Floor Mats Drawbacks
You've heard a lot about the benefits of all-weather floor mats. Let's find out whether they have drawbacks or not.
Expensive
They are expensive and cost a few hundred bucks, less than $250. After all, they are vehicle-specific liners and don't fit other models. You can quickly install and uninstall them and it becomes clean with a hose.
The carpet mats and all-weather universal floor mats that require trimming are not cheaper comparatively. They are available for under a hundred dollars.
Fewer Colors
All-weather floor mats are black mostly. Only a few brands make tan and gray floor mats. They may not be fit for the interior. On the other hand, carpet mats can be found in various colors and styles. You can make custom designs, logos, and colors as per your car's interior.
Outro
No matter what people say about car mats, all-weather floor mats win over carpet mats. If you want to choose liners for your car, look no more other than all-weather mats. They have a perfect fitting and waterproof material that adds durability.
You can explore all-weather floor mats for various vehicles through the buttons below.